Construction Worker Injured In Stairwell Collapse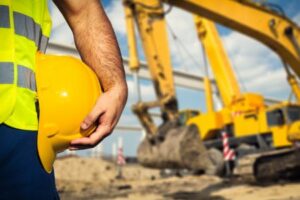 There are many ways in which a person can get injured on a construction site. One common way is in a collapse. Trenches, ceilings, and stairwells can all collapse, causing crushing injuries and even death.
Fortunately, a New Jersey construction worker escaped death after a stairwell collapse. The accident occurred on the morning of February 9 in Sea Girt.
A man was working at a home on Morven Terrace. At the home, which is under construction, the stairwell suddenly collapsed into the basement. The man was working on the stairwell at the time and he fell 15 feet.
The man became stuck and could not get out of the basement. The Sea Girt Fire Department and South Wall Fire Company responded to the accident scene. They were able to remove the worker from the basement and take him to the hospital for treatment. His current condition is unknown. It is also not known why the stairwell collapsed.
Dangers of Stairways
Stairways and stairwells can be dangerous if they are not sturdy or constructed well. Parts of the stairwell can separate or cave in. A person can be killed if a stairwell collapses above them, especially if it is a concrete one.
Stairways need to be built in accordance with state and local building codes. Each jurisdiction has different laws in place, but they all have rules regarding things such as:
Overall width of stairways
Height and depth of stair treads
Amount of headroom clearance
Vertical rise height of the stairway
Dimensional uniformity of steps
When stairwells do not follow these standards, they can become defective and fail. They can also collapse due to the other issues. For example, fasteners that are poorly installed or not used properly can fail and lead to a collapse. Also, outdoor stair treads can rot if water builds up on them. They can eventually collapse and cause serious injuries.
If unsafe materials are used or if rotting wood is not replaced promptly, stair users can suffer serious injuries or death in a fall. Therefore, those in charge of maintenance need to be aware of defects and other issues that can cause injuries. Stairway collapses may fall under the realm of premises liability and therefore the owner of the property on which the stairs can be found could be held liable for any injuries that occur due to poor maintenance.
Contact a New Jersey Personal Injury Lawyer Today
Construction accidents happen quite often and can lead to serious injuries and even death. Collapses can be especially deadly, since heavy materials are falling onto workers.
If you were injured in a construction accident, seek legal help from a Morristown construction accident injury attorney from The Law Offices of Michael P. Burakoff. We can discuss your situation and help you understand your options for obtaining compensation for your damages.
Schedule a free confidential consultation today. Call (973) 455-1567 or fill out the online form.
Resource:
starnewsgroup.com/2022/02/09/stairway-collapses-at-morven-terrace-home/