Pickup Truck Fatally Hits Bicyclist In Franklin Township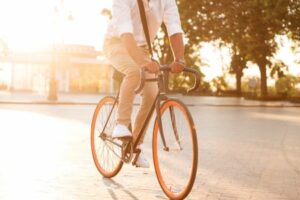 Bicycles are a great form of transportation for getting exercise, but they're not always safe. They're smaller than other vehicles, and not all drivers know how to act around bicycles. Some are aggressive toward them, while others hit them for other reasons. Unfortunately, many bicycle accidents result in fatality.
Sadly, this was recently the case in Franklin Township. A pickup truck driver lost control, hitting and killing a bicyclist. The fatal accident happened on the morning of June 21 on Tuckahoe Road. A 21-year-old man from Millville was driving a Chevy Silverado on southbound Tuckahoe Road when he lost control. He crossed into the opposite lane and hit a bicyclist in the shoulder.
The bicyclist was identified as 60-year-old Stephen D. Cifelli of Sewell. He died at the accident scene. The driver remained at the crash site and did not face any criminal charges.
What Causes a Vehicle to Lose Control?
When a vehicle loses control, it can collide with other vehicles, causing serious crashes. This was the case with the pickup truck. But what causes vehicles to lose control? There are several main causes, such as:
Going too fast can make it harder to control a vehicle, especially around curves.
Driving under the influence. A person who is intoxicated suffers from poor judgment and slow reaction times. This can make accidents more likely.
Weather conditions. Ice, rain, and snow can make roads slippery, which can cause a driver to go off the road or into an adjacent lane.
Road conditions. Potholes, loose gravel, and other issues can cause vehicles to lose control.
Mechanical issues. A tire blowout or defective brakes can make it hard to control your vehicle.
There are things you can do to maintain control of your vehicle. Understeering and oversteering are two of the biggest issues. These issues often occur when speeding, going around curves, or driving in inclement weather. If you do lose control, it's best to slow down, don't slam on the brakes, and don't steer too sharply.
Also, keep in mind that even if you drive safely, the reckless actions of others can cause you to lose control. Therefore, it's important to stay safe while driving. You can do so by taking the following actions:
Stay alert. Avoid driving while distracted. Keep your eyes on the road at all times.
Avoid tailgating. Make sure there is plenty of space between you and the vehicle in front in case you need to stop quickly.
Stay away from reckless drivers. If you see a driver speeding, weaving in and out of lanes, running red lights, or driving dangerously in other ways, stay away from them.
Contact a New Jersey Personal Injury Lawyer Today
Bicycle accidents are common, as not all motorists are willing to share the road. Bicyclists have little protection, and as a result, many die in crashes.
If you do survive a bicycle accident, you will likely end up with severe injuries. Get fair compensation from the Morristown bicycle accident lawyers at The Law Offices of Michael P. Burakoff. Schedule a free consultation by filling out the online form or calling (973) 455-1567.
Resource:
nj.com/gloucester-county/2021/06/man-loses-control-of-pickup-truck-fatally-strikes-bicyclist-police-say.html