New Jersey One Of The Top States For Dog Bite Claims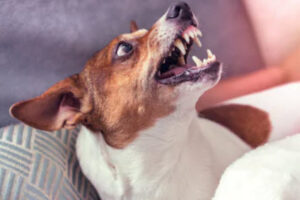 In 2020, when the coronavirus pandemic hit, people were stuck at home more. Bored, many Americans fixed their loneliness with a new pet—mainly dogs.
While dogs can be great pets, and highly loyal ones at that, they require a lot of attention. So when COVID numbers decreased and people were sent back to work in physical offices, dogs ended up at home by themselves. After being with their humans for so long, many found it hard to adapt.
Many owners have seen their dogs experience behavioral problems once they are no longer home with their pooches all the time. This has caused some dogs to act out and even bite or attack others, including family members in the same home.
Dog bites are on the rise. New Jersey was one of the states that saw the highest number of claims. It ranked #9 on the list, with 661 claims paid at an average of just under $50,000. These claims cost $30.5 million. California topped the list with 2,026 claims. The average cost of each claim was $59,561. Claims in California alone cost nearly $121 million.
In 2021, dog bite claims rose by 2.2% in the United States, compared to 2020. In 2021, there were 17,989 dog bite claims across the country, with $881 million paid out in total. These dog bites claims accounted for more than 30% of homeowners liability claim dollars paid out last year. These claims include dog bites as well as dogs knocking down people and bicyclists.
Even though the number of dog bite claims increased in 2021, the average cost per claim actually decreased by just over 1%. In 2020, the average claim amounted to $50,245. In 2021, the average claim was just above $40,000.
However, during the past decade, the average amount paid on a dog bite claim has increased by 39%, while the number of dog-related injury claims has increased by 9%.  The increases in claim amounts can be attributed to rising medical costs. Judges and juries are also awarding settlements in record amounts.
The most dangerous type of dogs are those that are most likely to be affected by poor training and irresponsible ownership and have a tendency to be vicious. Pitbulls, rottweilers, bulldogs, German shepherds, bull mastiffs, and Siberian huskies top the list. However, dog owners should keep in mind that any dog can bite if provoked.
Contact a New Jersey Personal Injury Lawyer Today
Dog bites can lead to serious injuries. Many people are mauled and even killed by all types of dogs.
If you have been injured by a dog, a Morristown dog bite injury attorney from The Law Offices of Michael P. Burakoff can help. We understand the long-term effects of dog bite injuries and can help you understand your legal options. Fill out the online form or call (973) 455-1567 for a free initial consultation.
Source:
propertycasualty360.com/2022/04/21/these-10-states-saw-the-most-dog-bite-claims-in-2021/?slreturn=20220323132644