Who's Liable for Your Scaffolding Accident Injury in New Jersey?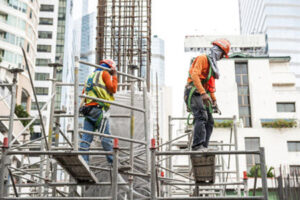 Compared to other places of work, construction sites are full of hazards that can injure workers and passers-by. A large percentage of construction site accidents in New Jersey involve scaffolding.
Scaffolding is a temporary structure design used by workers when building, repairing, or cleaning a building. Typically, scaffolding is not meant for long-term use and is made of wooden planks and metal poles. When a scaffolding structure is built negligently or improperly, construction accidents are bound to happen.
Usually, scaffolding structures are built by a third party, rather than the construction company or its workers. This fact alone may make the process of recovering damages after a scaffolding accident more complicated. In other words, it may not be the construction company that would be held liable for your scaffolding accident injury in New Jersey.
According to the Occupational Safety and Health Administration's ranking of most frequently violated standards, the general requirements for safe scaffolding structures rank third.
In fact, falls are the leading cause of death in the construction industry, according to OSHA. Falls account for nearly 38% of all deaths in the industry. Improperly built or faulty scaffolding structures are the leading cause of falls on construction sites in the U.S.
OSHA's Scaffolding Safety Standards
OSHA has strict scaffolding safety standards regarding its assembly and use. The requirements are meant to prevent scaffolding accidents. Some of the requirements include:
A scaffold must be capable of supporting its own weight and at least four times the maximum load that the scaffold is intended to hold;
Suspension ropes used to build a scaffold must be capable of supporting at least six times the maximum weight that the rope is intended to hold;
A competent and qualified person must inspect the scaffold and its components to identify any visible defects before every work shift and after any accident or occurrence that could affect the stability or durability of the structure;
The maximum distance for plastering and lathing operations should be no more than 18 inches from the face; and
The stairway must be at least 18 inches wide between stair rails.
Violating any of these OSHA scaffolding requirements could result in accidents involving the construction crew, pedestrians, and passers-by.
Who Can Be Held Liable for a Scaffolding Accident Injury?
A large percentage of scaffolding accidents involve scaffolding defects. Scaffolding accidents can occur when:
The scaffolding structure was built using low-quality materials;
The installation of the structure was not performed correctly; or
Any of the OSHA safety requirements were violated.
A scaffold collapse can result in catastrophic injuries or fatalities. Most scaffolds are installed by a third party, not the construction company. Thus, when a scaffolding accident happens, the injured victims may hold the third party liable for their losses and damages.
Depending on who was injured in a scaffolding accident, a third-party or workers' compensation claim can be filed. When a construction worker suffers a scaffolding accident injury, he or she may be eligible for workers' comp benefits to cover the damages and losses, including lost wages, resulting from the accident. The worker may also be entitled to pursue a claim for damages against responsible third parties.
When a scaffolding collapse causes injury to passers-by, they may pursue a personal injury claim against the construction company and/or the third party that installed the structure. Talk to a Morristown construction accident attorney at The Law Offices of Michael P. Burakoff, P.A., to determine liability in your situation. Call at 973-455-1567 for a case evaluation.
Resources:
osha.gov/stopfalls/
osha.gov/top10citedstandards