Premises Liability at Restaurants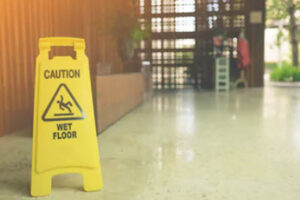 Slips and falls are common occurrences. They happen on a daily basis and cause serious injuries, such as broken bones and head trauma. These and other premises liability issues often occur in restaurants.
People go to restaurants to eat and drink. As such, food and beverages can be found throughout the premises. In many cases, these items can be dropped and spilled. When someone walks in the area, they can slip and fall.
Slips and falls are the most common accidents in restaurants. It's no surprise, given that floors are often wet and sticky. Employees often wear inappropriate footwear, making slips and falls more likely to occur. They should be wearing shoes with non-slip soles, not athletic shoes or ones with leather soles. Restaurants can contact companies that specialize in footwear for the hospitality industry.
Slips are likely near ice and beverage machines.  Rubber mats are often placed on floors to improve traction but they often make the problem worse by causing trips and falls.
Making matters worse is the fact that spills are not always cleaned up promptly — or appropriately. Some employees use dirty water and dirty maps for such cleanup jobs. All this is doing is making the floor even more slippery. This is why employees need to be trained on using appropriate cleaners and cleaning up spills promptly.
Entryways are dangerous areas for employees and customers. In the winter, customers often come in with wet shoes and umbrellas, causing water to drip onto the floor and cause slips and falls. Bathrooms can also be dangerous when a person has washed their hands and cannot find any towels, causing wet hands to drip.
Slips and falls are not the only premises liability issues at restaurants. Negligent security and dangerous conditions can also cause customers and employees to suffer injuries. For example, a lack of outdoor lighting at night can cause a patron to trip and fall. It can also make crimes more likely to occur. A person can be assaulted, raped or even murdered in a dimly lit parking lot.
When a restaurant serves alcohol, the bartender has an obligation to stop serving drunk customers. If they allow the patron to continue to drink, they are responsible for what the person does while intoxicated. If the person assaults a customer or drives drunk and causes an accident, the restaurant can be held liable and sued.
A person who is injured at a restaurant will need to prove negligence. They will need to show that the restaurant breached its duty and that this breach caused the victim to suffer damages, such as injuries and medical bills.
Contact a New Jersey Personal Injury Lawyer Today
Slips and falls can happen anywhere. They can be serious situations in restaurants and other places where food and drinks are served.
Whether you are a customer or employee, seek help for your restaurant premises liability case. The Morristown premises liability attorneys at The Law Offices of Michael P. Burakoff can help you obtain compensation from the liable party. Schedule a free consultation by calling (973) 455-1567 or filling out the online form.
Resource:
ehstoday.com/safety/article/21917518/food-service-slips-and-falls-are-not-on-the-menu