Newton Motor Vehicle Accident Attorney
Serving Clients Injured in Vehicle Accidents in New Jersey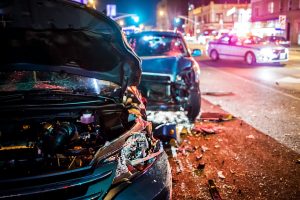 Anyone who has ever been in a car accident knows how difficult things can be afterward.  At the time of the crash, you have to exchange insurance information, contact the police, be part of an investigation, give all information to the police, and try to figure out what happened.
If you have been injured in an accident in New Jersey, we will help you find out what happened and who is responsible for your injuries.
If multiple cars are involved, things can be even more complicated.  In New Jersey, according to the most recent Department of Transportation reports, there are nearly 300,000 crashes every year. Out of those crashes, 62,000 of resulted in injuries and approximately 600 resulted in fatalities.
At The Law Offices of Michael P. Burakoff, we take pride in keeping clients' families informed and involved throughout the legal process as we have done for over 40 years in local New Jersey communities including Newton, Morristown, Netcong, Hopatcong, Dover, Roxbury, and both Morris County and Sussex County.
To discuss your family's needs and concerns in the aftermath of a motorcycle accident, call our Newton motor vehicle car accident attorneys today for a free and confidential consultation with a member of our qualified legal staff.
Determining Cause of the Initial Crash in Sussex County NJ
You may not have caused the accident or been part of the initial crash but, at some point, if your car was hit and you were injured, you may be entitled to recovery if you were not in the wrong.  Figuring out what happened may be difficult.  The negligence of the other drivers or your own behavior may be in question.
There are many different reasons that may cause multi-vehicle car accidents to occur.  Some common reasons for accidents on our congested roadways include distracted driving such as texting, drunk driving, inattentive driving, stop and go traffic, weather-related issues, and safety defects.
Did Reckless or Negligent Driving Cause Subsequent Crashes in a Multi-vehicle Pile Up?
It is important to find out who is responsible for the initial crash and what happened afterward.  The courts will look to who recklessly or negligently caused the crash and if that person caused the other crashes as well.  For example, maybe car A is driving in opposing traffic and driven by a drunk driver. Driver A crosses the median, crashes into car B which is driving in the opposite direction. Car C, who is behind car B, crashes into car B. Car D is behind car C and crashes into it.
The court may look at whether the other cars, C and D are responsible in any way.  For instance, were they traveling too closely? Should they have been paying better attention? Were they speeding? Talking on the phone? If your injuries would not have occurred had you not acted negligently, you may not be entitled to recovery for your injuries. If you were the main cause of your injuries, you may not be compensated.
Multiple Drivers/Vehicles May Be Responsible
The court will look to the responsibility that each party may have played in the accident and the percentage of that responsibility.  If you are not mostly at fault for the accident, you may be entitled to compensation. Our attorneys will look to the facts of each case and make a careful determination of who may be responsible.  Our review is based on our experience in accidents and what the courts look at when making such a determination.  Police reports, statements, videos, skid marks, photographs, tickets, cell phone records, and witness accounts are reviewed when deciphering who may be at fault.
What Can You Expect to Recover if You Were Injured in a Motor Vehicle Accident?
Many problems arise as a result of an accident.  A person's car may be damaged and need repair or it may even be totaled.  If the person regularly relies on their car to get to work, they may miss work.  If the person was injured and had to go to the hospital, there will be medical bills and treatment.  Perhaps physical therapy is in order which also causes a person to miss work and lose wages.  Perhaps the physical injury is permanent and causes damage that makes the person unable to work.
In a lawsuit, you may seek damages and recovery of those injuries, medical bills, and lost wages.  In some instances, there may be permanent disfigurement that you can be compensated for.
Contact a Newton Vehicle Accident Attorney and Let Us Treat You and Your Family Like You Are a Part of Our Family
Newton car accident attorney Michael P. Burakoff has been protecting the legal rights of clients injured in motor vehicle accidents since 1976. Our firm believes in working closely with the families of our clients in an effort to provide the best possible support in such a traumatic and stressful time.
If you or a loved one has suffered as a result of a motor vehicle accident, contact us online or through our Morristown office or our Newton office by calling 973-455-1567 today for a free and confidential consultation.