Morristown Truck Accident Attorney
Serving Clients Injured in Truck Accidents across Morris County and Sussex County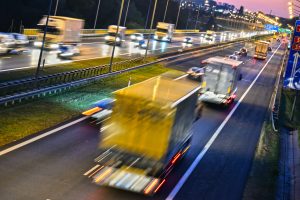 The Garden State Parkway, the New Jersey Turnpike, and other New Jersey roads and highways are congested with a wide variety of semi trucks and tractor trailers. The size of trucks, the high speeds at which they travel, and this road and highway traffic density all combine to produce an environment ripe for serious injuries caused by car accidents and truck accidents.
If you have been injured in any kind of truck accident which was caused by the reckless or negligent actions of another party, you may be able to recover compensation for the damages you and your family have suffered through a truck accident personal injury claim. However, a successful personal injury recovery often relies upon the investigations, presentations, arguments, and negotiations an experienced Morristown truck accident attorney can make on your behalf.
At The Law Offices of Michael P. Burakoff, we have extensive experience recovering full and fair compensation for truck accident injury victims in towns across Morris County and Sussex County, including Hopatcong, Parsippany, Dover, Netcong, East Hanover, Florham Park, Mt. Olive, Rockaway, Denville, Morristown, Newton, and more. With a unique approach to personal injury law focusing on working not only with injury victims but with their families as well, our firm is ideally suited to providing you with the highly knowledgeable, attentive, and effective service that you and your family need and deserve when it comes to securing full and fair compensation for any kind of truck accident injuries.
Call us today through our Morristown office or our Newton office to discuss your unique needs, concerns, and situation regarding any kind of truck accident in a free and confidential consultation with our legal team.
Types of Truck Accidents
Attorney Michael P. Burakoff has more than 40 years of experience representing victims of serious semi accidents. No matter what type of truck accident you have been injured in, he can step in, protect your rights, and help you see maximum compensation for all accident-related expenses and damages:
Jackknife accidents
Rollover accidents
Rear-end accidents
T-bone accidents
Underride accidents
Head-on collisions
Left-turn accidents
Tanker spills
Brake failure accidents
Tire blowout accidents
The causes of these accidents can vary. Anything from driver fatigue to faulty brakes to overloaded trucks can cause or contribute to a serious accident. In any case, a thorough investigation is a critical legal step to determine the accident's cause and liability.
Common Causes of Truck Accident Injuries in Morris County
While truck accidents can happen anytime, and for almost any reason, in our experience truck accidents are most commonly caused by:
Drunk Drivers
Commercial truck drivers who are over-worked and driving without sufficient rest
Failed inspections
Lack of proper maintenance and care
Faulty truck or trailer brake pads
Failure to obey traffic laws
Trucks carrying more than their allotted capacity
In all of these above examples, the causes of the truck accident could have easily been prevented, and realistically should have been had the responsible party been properly performing their duties.
If you have been injured in a truck accident caused by any of the factors listed above, or any other failure of care or duty, there is a strong chance that you will be able to recover compensation for your truck accident injuries and the resulting damages to your life through a personal injury claim. Contact our Morris County law firm today to discuss your situation and your options for recovering financial compensation in a free and confidential consultation.
A Thorough Investigation Can Uncover All Causes of a Trucking Accident
The insurance claims process after a major truck accident is complex. In order for an injury victim to receive full and fair compensation, it may be necessary to file claims with — or lawsuits against — several different defendants. Each person or company that contributed to the accident is a possible defendant who might be made to pay for the victims' financial losses.
When seeking a personal injury attorney to represent your interests in the aftermath of a serious truck accident, select a Morristown trucking accident attorney who understands the importance of conducting a thorough investigation into all possible causes and finding all possible defendants.
A New Jersey Truck Accident Lawyer Dedicated to Injury Victims' Rights
New Jersey personal injury attorney Michael P. Burakoff is a seasoned trial lawyer who has spent the last 40 years building a reputation as a dedicated and strategic attorney whose mission is to protect the rights of injury victims throughout New Jersey. Clients of our law firm gain direct access to a no-nonsense lawyer who can explain the legal process in clear language and who will leave no stone unturned in the effort to achieve a just settlement or jury verdict. Contact us to learn more or schedule a consultation at one of our convenient offices in Morristown, West New York, and Newton.
Millions of Dollars Recovered From Insurance Companies for Our Clients: At The Law Offices of Michael P. Burakoff, P.A., we have recovered millions of dollars from the nation's largest insurance companies, including Allstate, Geico, State Farm, and New Jersey Manufacturers Insurance Company. Review our selected case histories to learn more.
Common Causes of Truck Accidents
When we represent injury victims following a truck accident, our investigation searches for evidence of any or all of the following common causes of truck accidents:
Driver fatigue
Illegal use of drugs or alcohol
Lack of driver training and education
Improper loading and unsecured loads
Distracted driving
Speeding, weaving through traffic, and other types of reckless driving
Corporate delivery deadlines that encourage drivers to stay on the road when tired in order to meet their obligations
Improper maintenance or repair resulting in faulty equipment
We Find and Hold Liable All Responsible Parties
When it comes to personal injury claims resulting from truck accident injuries, there can be a variety of potentially liable parties, and sometimes even more than one.
Trucking companies themselves often make irresponsible hires, hiring drivers with a history of reckless driving or drunk driving. Or, they may have asked a particular driver to work overtime to the point where that driver is no longer realistically fit to drive in a safe and responsible manner.
Other times, a third party company will perform maintenance on trucks (or fail to properly perform said maintenance) and may be held liable when trucks no longer meet safety standards.
It may even be the case that the manufacturer of a particular model of truck or trailer were negligent in their duties, and either sold trucks which were defectively manufactured or even defectively designed, to begin with, resulting in a product liability claim.
Of course, these are simply some of the most common scenarios in which a third party is held liable for a truck accident and resulting injuries, there are many different scenarios in which a truck accident injury victim may be able to hold some other entity liable for their injuries. Contact our firm today to discuss your unique situation and your options for finding and holding responsible the parties whose negligent actions lead to your injuries.
We Help You Build a Personal Injury Case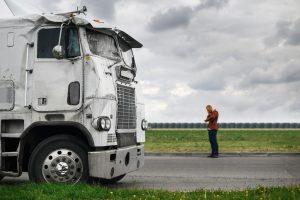 In order to build a strong truck accident personal injury claim, you and your Morristown truck accident attorney will most likely take the following steps:
You and your attorney will thoroughly discuss the events surrounding your truck accident, what happened? What details do you remember? Who else witnessed the accident? These questions and more will help to provide the beginnings of a personal injury claim and give direction to your attorney as to who may be liable for your injuries, and how to go about obtaining the information necessary to prove your claim.
Your truck accident injury attorney will then go about gathering all of the various documents and evidence relevant to your case. This can include things like police reports, insurance reports, witness statements, video recordings of the accident, "black box" data contained within commercial trucks, and more.
Once you can effectively prove what happened, and how other party (ies) are responsible for your truck accident and resulting injuries, it will then become necessary to accurately estimate exactly how much you require in terms of financial compensation for your injuries and related damages. While money itself is often insufficient in reversing all that you have suffered, it is currently the best (and only) way our legal system has of compensating you for your damages. Calculating exactly how much you require in terms of your medical expenses, lost income, loss of earning capacity, loss of enjoyment of life, and pain and suffering will most likely require consulting with experts in a variety of fields, and putting together all of this information into a dollar amount to be sought.
Now that you have all of these various elements in place, it is time to begin negotiating with the insurance company in earnest in order to resolve your personal injury claim. While most claims tend to be resolved through some kind of settlement, it is still essential that you and your attorney are prepared to take your claim to trial should the insurance company prove intractable in its offers.
Finally, your attorney will advise you when a settlement offer is fair to you, when you should continue to negotiate with the goal of securing a fairer offer, or when you may instead need to go to trial to secure full and fair compensation. However, this is legal advice only, the final decision is up to you.
Contact A Morristown Truck Accident Attorney Today
At The Law Offices of Michael P. Burakoff, our Morristown truck accident attorneys have extensive experience helping clients and families recover full and fair compensation for truck accident injuries of all kinds in towns across Morris County and Sussex County, including Parsippany, Hanover, Denville, Netcong, Mt. Olive, Dover, Newton, Morristown, Rockaway, and more.
With close proximity to highways such as I-287, I-80, Rt. 202, Rt. 24, Rt, 46, and Rt. 206, our firm and Attorney Michael Burakoff has already represented many clients in a truck accident and motor vehicle accident injury claims and successfully recovered the financial compensation that our clients need and deserve. With a dedication to working closely with our clients as well as their families, an intimate knowledge of many different areas of the law, and a dedication to providing effective and attentive service, our firm is ideally suited to helping you when it comes to making a successful truck accident injury recovery.
To speak with Michael Burakoff and our legal team today in a free and confidential consultation regarding any kind of truck accident, your options for holding responsible parties liable and securing financial compensation, and how exactly we can help you to do so, please contact us online, or through either our Morristown office or our Newton office at 973-455-1567.