Morristown Texting While Driving Accidents Attorney
Providing Legal Assistance When a Texting Driver Has Injured You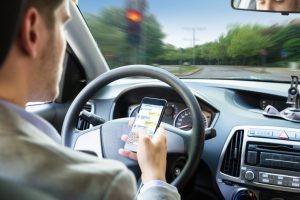 Every year, hundreds of people in New Jersey are injured by distracted drivers. Texting while driving is now one of the predominant and dangerous forms of distracted driving. If you or someone you love was hurt in a car accident, an experienced attorney will work to determine whether cellphone use or texting contributed to the crash.
At The Law Offices of Michael P. Burakoff, P.A., we represent car accident victims throughout New Jersey and West New York. Our Morristown texting while driving accidents attorney is well-positioned to help you, wherever you are located. We have more than 40 years of experience in personal injury law and have handled numerous cases where distracted driving was an issue. We understand how these cases proceed and how to overcome and challenges that may arise.
The Law on Texting While Driving in New Jersey
It is illegal to text while driving in New Jersey. The texting ban applies to all drivers. In addition, all drivers are prohibited from using handheld cellphones. Drivers are, however, permitted to talk on cellphones if using a wireless device, such as Bluetooth. Police can pull drivers over and cite them for cellphone use or texting even if there is no other reason for the officer to stop the vehicle.
Finding Evidence of Distracted Driving
Led by Morristown texting while driving accident lawyer, we conduct thorough investigations of each car accident claim we handle. If evidence of texting while driving is found, the injured person could recover additional compensation, due to the fact that texting while driving is recognized as such a dangerous act. We search for evidence of cellphone use in a number of ways, such as:
Using a subpoena to obtain cell-phone records
Accessing the vehicle's computer system to analyze it, if the car is new enough
Locate and question appropriate people to uncover and confirm cellphone use
Hurt by a Distracted Driver? Our New Jersey Lawyer Can Help. Get a Free Consultation Now.
To schedule a free attorney consultation, please call 973-455-1567. You can also contact our law firm online. We have convenient offices in Morristown, West New York and Newton, New Jersey.
If you cannot visit our office due to your condition, we can visit you in a location that is accessible to you.