Morristown Single-Vehicle Auto Accidents Attorney
Serving Clients Injured in Car Accidents in New Jersey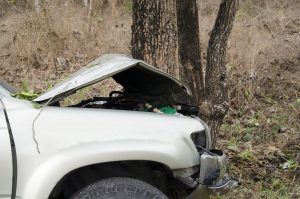 There are many types of accidents in New Jersey but one that can cause the most injuries and fatalities is a Single-Vehicle Accident. If you have been in a single vehicle accident, as a driver or passenger, you should contact an attorney to evaluate your case.
A single-vehicle accident in New Jersey occurs when one car is involved in an accident and it:
strikes a parked car;
strikes a pedestrian or bicyclist;
strikes and animal or swerves to avoid an animal;
strikes a stationary object like a tree, utility pole, building or house.
strikes nothing and veers off the road or rolls over.
Whatever the case may be as to the impact of the crash, there may be varying causes or contributing factors to the crash. Some questions our attorneys will ask are where the crash occurred, what were the weather conditions, had you ever received a recall notice about your car, what was the roadway like, were there any traffic signal or sign (or signs missing), what was the visibility, was there an animal in the roadway, were there witnesses.  There are many more questions we will ask but you should think about these factors and be prepared to answer.
At The Law Offices of Michael P. Burakoff, our family-focused approach to personal injury law, and the results we have secured, have earned us the respect and gratitude of injured clients and their families in towns across Morris County and Sussex County, including Newton, Dover, Denville, Netcong, Hopatcong, Rockaway, Parsippany, and Morristown.
To discuss your family's unique needs, concerns, and situation when it comes to any kind of motor vehicle accident injury in a free and confidential consultation with our legal team today, please call our Morristown office or our Newton office.
Responsibility for Single-Car Crashes in Newton NJ
New Jersey is a "No-fault insurance" State which means that any person involved in a crash must make a claim with their own motor vehicle insurance company.  In the case with a single vehicle crash, the person operating the motor vehicle will be responsible for any injuries or damage.
Anyone who is injured by the crash, whether it is you, a passenger, a pedestrian, or bicyclist, will be able to file a personal injury claim and seek monetary recovery through the driver's car insurance policy. If the injured party can establish in a legal claim that the driver was negligent, careless, or at fault, the injured party can recover damages against the driver and the insurance company.
If you are the driver and injured, you will have to go through your insurance company for medical treatment.  If you go to the hospital, they will ask you the cause of your injury and when it is reported that it is a car accident, they will require it to go through your car insurance. You can make claims for medical coverage and lost wages through your PIP benefits (Personal Injury Protection). If you have been in an accident it is important to see a doctor as some injuries do not surface until later.
Sometimes an accident may happen because of poor roadway conditions, missing road signs, cars parked in a manner obstructing your view or a dog roaming the streets.  If the accident involves a reason that you believe makes the town or municipality responsible, you may have difficulty in suing the town due to immunity.  There is a statute known as the Tort Claims Act that requires the aggrieved party to put the town or government on notice of its claim within 90 days.  Our office can review your claim and determine if this is necessary,
Sussex County Car Accident Lawyers Advise You To Protect Yourself
There are so many factors to consider in an accident.  There are very basic things that you can do to assist yourself.  If you are hurt, go to the doctor.  Contact your insurance company. Obtain the police report.
If an occupant of the car was hurt you should not discuss the accident.  You do not know how injured the person may and they may eventually decide to sue your insurance company and you personally.  If the passenger has difficulty getting medical reimbursements or is permanently disfigured or harmed, they will need to seek recovery from your company and you.  They may try to use any and all information they have to assist in their recovery.
Contact a Morristown Car Accident Lawyer Today and Protect the Rights of You and Your Family
If you are the injured party or passenger you should seek treatment and ask for the driver's insurance information. At The Law Offices of Michael P. Burakoff, we have successfully recovered compensation for accident injury victims and their families in towns across Morris County and Sussex County, including, Newton, Morristown, Hopatcong, Mt. Olive, Parsippany and more. Attorneys who "handle" auto accident claims are a dime a dozen in New Jersey. However, if you have been seriously injured in a car crash, you deserve a New Jersey car accident attorney who will do more than just "handle" your auto accident claim, and the family-focused approach of our firm will provide you and your family with exactly that kind of "extra mile" service that you truly need and deserve.
Please, contact us online or through our Morristown office or our Newton office by calling 973-455-1567 today to discuss your unique needs, concerns, and the situation regarding any kind of car accident injury with our legal team today in a free and confidential consultation.