Morristown Scaffolding & Ladder Accident Attorney
Serving Injured Clients in New Jersey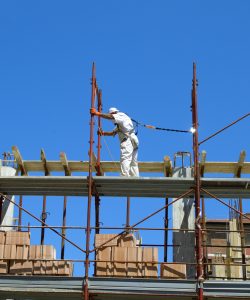 According to the U.S. Occupational Safety and Health Administration (OSHA), accidents involving falls are the number one cause of serious injury and death for construction workers. It should then come as no surprise that scaffolding and ladder accidents are amongst the most common suffered by construction workers in New Jersey. The OSHA provides not only regulatory guidelines but also helpful resources to prevent avoidable accidents. Unfortunately, these guidelines are often ignored which can lead to serious accidents.
If you or a loved one has been injured in a scaffolding or ladder accident on the job, you are likely entitled to financial compensation through a workers' compensation claim. However, workers' comp coverage is limited. In certain situations, it may also be possible to recover even greater compensation through a personal injury claim as well.
At The Law Offices of Michael P. Burakoff, our legal staff believes in pursuing every possible avenue for our clients who have been injured on the job. In over 40 years of practicing law, we have recovered full and fair compensation for construction workers across Morris County and Sussex County towns including Newton, Morristown, Dover, Danville, Roxbury, Mt. Olive, and Netcong. In one case, we were able to recover $3,600,000 for a construction site accident.
To discuss your scaffolding or ladder accident, your resulting injuries, and your potential workers' compensation and/or personal injury claims, please call our Morristown scaffolding and ladder accident attorney for a free and confidential consultation.
Morris Plains Scaffolding & Ladder Accident Lawyer Identifies Workers' Comp Limitations
Most accidents involving scaffolding or ladders occur on the job, primarily on construction sites. Workers' compensation is a type of insurance coverage which is meant to be paid out to injured workers. The great thing about workers' compensation is that coverage kicks in regardless of who is at fault for your injuries. In other words, even if all OSHA standards were met and conditions were reasonably safe, your injuries will still be covered by workers' comp.
However, this no-fault insurance coverage is offset by offering limited compensation. Recoverable damages through workers' compensation claims are primarily limited to medical expenses, lost wages, disability benefits, and death benefits. While workers' compensation coverage may be available to all injured employees in New Jersey, the compensation provided is often insufficient to cover the full extent of the damages incurred.
Sussex County Personal Injury Lawyer Finds Liability for Construction Accidents
In contrast to the limited coverages available through workers' compensation, personal injury claims cover all of the above plus additional considerations including physical pain and suffering, mental anguish, loss of life's pleasures, and much more. However, successful personal injury claims for on the job accidents require our Sussex County lawyer to prove that your injuries were the result of the reckless or negligent behavior of a third party. Some scenarios involving ladder and scaffolding accidents which may lead to a successful personal injury claim might include:
You were not on the job at the time of your injurious scaffolding or ladder accident
Your injury was the result of a defective product. This type of product liability suit can be filed directly against the manufacturer, assembler, or distributor of the defective product
The accident was caused by the negligence or recklessness of a third party who was not employed by or contracted by your employer
The conduct of your employer, co-workers, or other individuals was egregiously reckless and knowingly created a dangerous situation
Dover Construction Accident Injury Attorney Finds Compensation
Whether your injuries were the result of the negligent and/or reckless actions of another party or simply an honest accident, our Dover scaffolding and ladder injury attorney will exhaust every possibility when seeking full and fair compensation. It is recommended that you contact an experienced personal injury lawyer as soon as possible after your accident for several reasons:
The hazardous conditions which led to your accident may be proof of legal negligence by your employer or a third party. The longer you wait, the more time the at-fault party will have to correct these hazards. This often includes OSHA infractions which can quickly be corrected before our legal team is able to act
Your employer and their insurance company will likely try to get you to sign waivers or a low ball settlement offer. Before signing any paperwork, it is a great idea to speak with a qualified attorney
We will work with you to get the medical treatment and diagnosis for your injuries which are essential for both personal injury and workers' compensation claims. Seeing a doctor immediately after your injury is the best way to legally connect your injuries with your accident
Contact a Ladder and Scaffolding Accident and Injury Attorney with Offices in Sussex and Morris County Today
The personal injury and workers' compensation legal team of The Law Offices of Michael P. Burakoff understands that being injured in a ladder or scaffolding accident can have devastating implications for victims and their families. That is precisely why our law firm takes pride in offering dynamic, individualized legal services aimed at addressing the unique needs and concerns of each one of our clients. Attorney Michael Burakoff has used this approach to successfully recover compensation for injured clients since 1976 in Sussex County and Morris County towns such as Morristown, Netcong, Newton, Hopatcong, Parsippany, Dover, Denville, and Morris Plains.
To speak with Attorney Burakoff and his legal staff in a free and confidential consultation pertaining to your recent ladder or scaffolding accidents, please contact us online or through our Morristown office or our Newton office by calling 973-455-1567 today.