Morristown Retail Store & Parking Lot Accidents Attorney
Serving Clients across New Jersey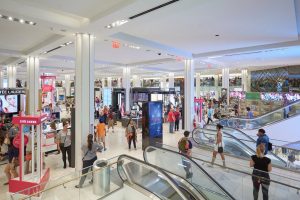 Family trips to the local mall are not high on a lot of people's lists for dangerous situations, nor should they be. For the vast majority of us, becoming injured at a mall, retail store, or parking lot is not a situation we will ever encounter. Unfortunately, though uncommon, these types of accidents do happen in our local communities. When store owners do not provide a safe and secure shopping environment for their customers, they may be held liable for accidents which take place on their property. If you or a loved one has suffered an injury on the property of a retail store, grocery store, or parking lot, your injuries may be covered by New Jersey premises liability statutes.
Over the past several decades, the legal team at The Law Offices of Michael P. Burakoff have been successful in pursuing financial compensation for victims of retail store and parking lot accidents through personal injury claims including no less than five (5) recoveries for parking lot accidents over $100,000. Our firm is built on the belief that our clients come first, which is why we strive to keep clients and their families as informed and involved as possible throughout the personal injury claims process. Our experience and dedication to unparalleled service have led to successful financial recoveries for clients from Sussex and Morris County towns including Newton, Morristown, Parsippany, Danville, Roxbury, Dover, and Chatham.
To discuss your recent retail store or parking lot accident, your injuries, and your legal standing regarding a personal injury claim, call our Morristown retail store and parking lot accidents attorney today for a free and confidential consultation with a member of our experienced legal team.
Morristown Premises Liability Lawyer Identifies Types of Accidents
While malls, retail stores, and parking lots are all generally safe, there are a handful of common accidents which can cause injury. Such accidents may include:
Negligent security – Store managers and proprietors are responsible for providing a safe environment for shoppers. That includes adequate security personnel and providing well-lit, safe spaces. A common negligent security complaint might be a dimly lit parking area with insufficient or non-existent security presence leading to a violent crime
Slip and falls – hazardous flooring conditions can easily lead to serious injury as a result of a fall. However, the mere presence of a dangerous condition is not sufficient to file a claim as we will explore in the following section
Pedestrian accidents – a false sense of security can result in devastating motor vehicle accidents in New Jersey parking lots. Thousands of people are killed each year in "not-in-traffic" auto accidents
Other hazardous conditions – consider walking through a home improvement store with massive thirty-foot ceilings. 2×4 planks of wood and other heavy merchandise lines the shelves and employees are using forklifts and other heavy machinery in store aisles. Injuries as a result of any other dangerous actions taken by store owners, managers, or employees could be considered grounds for a premises liability claim
Hopatcong Retail Store Accident Attorney Recovers Compensation
In order for your retail store or parking lot injury to qualify for a personal injury claim under premises liability statutes, our Hopatcong attorney will need to prove that the circumstances leading to your injurious accident were avoidable. In other words, simply having an accident on the property of another is not sufficient to hold them liable. To reach a successful verdict or settlement to your premises liability claim, we will strive to show that your accident was directly caused by the negligent and/or reckless acts of another party.
Consider the following example:
There is an issue with the plumbing in a public restroom, and water is overflowing from the restroom into the walkways in the atrium of a mall. A store employee notifies security and mall ownership of the potentially dangerous situation. Rather than immediately go to the scene and address the situation, or call maintenance to clean the mess, the security representative ignores the request and goes on a lunch break. In the meantime, an individual slips on the wet surface and suffers a broken wrist and a head injury.
What makes this hypothetical scenario a strong candidate for a premises liability personal injury claim is that the danger existed, was known, was not dealt with in an appropriate and timely manner, and ultimately, the hazard directly led to an injury.
Contact a Sussex County Retail Store and Parking Lot Accident Attorney Today
No one expects to be injured on a weekend shopping trip or while walking to their car. While these accidents do happen, all too often they are avoidable and can be attributed to the negligent or reckless actions of a responsible party. Personal injury lawyer Michal Burakoff has been serving injured clients since 1976. Lean on the extensive experience he has cultivated through 40 plus years of securing full and fair compensation for injured victims in Sussex and Morris County towns including Newton, Morristown, Netcong, Dover, East Hanover, Morris Plains, Andover, and Denville. Our legal team is dedicated to providing dynamic and personalized legal service, which we believe sets us apart from the average personal injury firm.
If you or a loved one has been injured in a retail store, mall, or parking lot accident, contact us online or through our Morristown office or our Newton office by calling 973-455-1567 today for a free and confidential consultation with a member of our qualified legal team.