Morristown Rear-End Collisions Attorney
Strong and Protective Advocacy for New Jersey Injury Victims for Over 40 Years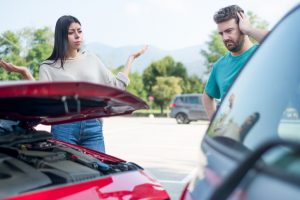 Proving responsibility in rear-end car accidents is not usually a problem in New Jersey. New Jersey law states that a driver who runs into the back of another vehicle is legally responsible for the resulting injuries and property damage, with very rare exceptions.
Experienced trial lawyer Michael P. Burakoff knows that the main difficulty with obtaining compensation after rear-end collisions have to do with proving that the accident caused compensable injuries. In other words, did the rear-end collision cause significant injuries that require surgery or lengthy rehabilitation?
Everyone is suspicious of anyone who cries "whiplash!" after a rear-end collision. Nevertheless, rear-end collisions often do cause serious, life-changing injury. Rear-end collision victims should not be denied fair compensation for real injuries due to skepticism by insurance companies, judges or juries. Morristown rear-end collisions attorney Michael P. Burakoff has recovered millions of dollars for New Jersey accident victims, including rear-end collision victims. Read some of our case histories.
Consult a Seasoned and Local Attorney Experienced With Rear-End Car Collisions
Filing successful insurance claims after rear-end collisions is a complex process that requires a delicate touch, extensive experience, and significant knowledge of the relevant medical issues. If you suffered injury after another driver ran into the back of your vehicle, consult our Morristown rear-end car collision lawyer as soon as possible after the accident. Contact us to schedule a free consultation.
Proving Serious Injury in Rear-End Collision Cases
In rear-end collisions — as with any car accident — it is important to seek complete and continuing medical attention beginning immediately after the accident and continuing whenever new symptoms arise or existing symptoms worsen. Your treating physician is in the best position to testify that you suffered objective injury to your neck, spine or back as the result of a rear-end collision.
At The Law Offices of Michael P. Burakoff, P.A., we are known as a law firm that develops strong working relationships with our clients' doctors — we work as a team to make sure our clients have the money they need to get the care their doctors prescribe. Communication between the lawyer and the treating doctor is one of the keys to a successful injury claim after a rear-end collision. Mr. Burakoff has worked with doctors across New Jersey. He also has demonstrated skill at cross-examining the insurance companies' doctors who attempt to minimize our clients' injuries.
Contact us to schedule an appointment for a complimentary initial consultation at one of our convenient New Jersey offices in Morristown, West New York, and Newton. You can call us at 973-455-1567 or visit our website.