Morristown Paralysis Injury Attorney
Serving Injured Clients Across New Jersey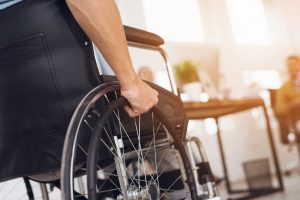 Paralysis is amongst the most severe types of injuries which can result from many types of accidents. In an instant, victims can lose the ability to feel or control a single or multiple body parts. While the most serious types of paralysis are often a result of a spinal cord injury, paralysis comes in many forms. Whether you or a loved one has suffered an injury leading to minor paralysis or have been permanently disabled by your accident, you may be entitled to financial compensation through a personal injury claim.
At The Law Offices of Michael P. Burakoff, our personal injury legal team takes pride in protecting the legal rights of our clients from across Morris and Sussex County towns including Hopatcong, Newton, Morristown, East Hanover, Mt. Olive, Chatham, Andover, and all of Northern New Jersey. Attorney Burakoff has extensive experience recovering full and fair financial compensation to cover costs such as medical bills, lost wages, pain and suffering, and much more. Our firm works closely with our clients and their families to ensure that your individual needs and concerns are addressed throughout the legal process.
Call our Morristown paralysis accident injury lawyer today for a free and confidential consultation regarding your accident, your paralysis injuries, and your potential personal injury case.
Newton Paralysis Accident Injury Lawyer Identifies Common Causes of Paralysis
Of the many different maladies which can lead to paralysis, there are three primary categories: central nervous system damage, neurological disease, and brain damage. Our Newton Paralysis accident injury lawyer protects the legal rights of clients who have been injured in an accident resulting in paralysis. Common causes of paralysis include:
Motor Vehicle Accidents – the force of car accidents, truck accidents, and motorcycle accidents are more than enough to cause significant damage to the spinal cord, brain, or other parts of the central nervous system
Construction Accidents – the most dangerous form of construction accident involves falling from heights, which has been known to cause paralysis
Bicycle and Pedestrian Accidents – cyclists and pedestrians are unprotected from vehicles in the case of a collision, often leading to very serious injury
Slip and Fall Accidents – even the seemingly innocent fall in a mall, grocery store, or other public places can lead to nerve damage and paralysis
Dover Paralysis Personal Injury Attorney Discusses Types of Paralysis Injuries
Our Dover paralysis personal injury attorney believes that all paralysis injuries are serious, but they are not all equal in severity. Potential forms of paralysis injury include:
Complete paralysis of a body part or group of body parts
Partial paralysis of a body or group of body parts. This may entail partial movements and/or sensation without full control or feeling
Localized paralysis which is contained to a single body part such as a foot, eye, finger, and so on. This type of paralysis is generally caused by local nerve damage
Generalized paralysis which may affect large sections of the body such as from the waist down, from the neck down, or one side of the body
Permanent vs. temporary paralysis – some forms of paralysis are temporary, but it is difficult to recover from central nervous system injuries such as spinal cord damage, often resulting in permanent medical conditions
Am I Eligible for Financial Compensation for my Paralysis Injuries?
For the majority of personal injury claims, your Morris County paralysis injury attorney will likely have to prove the following:
You were involved in an accident
Your accident was caused by a negligent or reckless act of another individual or entity
Your injuries were directly caused by your accident
Your injuries led to damages including incurred expenses, pain and suffering, mental anguish, and more
When it comes to potentially permanent injuries such as paralysis, it is vital to consider the financial compensation which you and your family will need for a lifetime of expenses and lost wages. The good news is that personal injury compensation is often tied directly to the severity of your injuries and the surrounding circumstances. By working with a qualified personal injury attorney, you will give yourself the best chance of securing your financial future.
Contact a Paralysis Accident Injury Attorney with Offices in Sussex and Morris County Today
Paralysis accident injury attorney Michael P. Burakoff has helped many clients recover full and fair compensation for serious injuries across Morris and Sussex County communities such as Newton, Rockaway, Hopatcong, Florham Park, Mt. Olive, Andover, and all of Northern New Jersey. Attorney Burakoff puts the attorney-client relationship at the forefront of the personal injury legal process, which allows us to deliver highly personalized legal solutions. Our firm has recovered multiple million dollar verdicts and settlements over the past three-plus decades of dedicated service.
For a free and confidential consultation with a member of our qualified and experienced legal team, please contact us online or call our Morristown of Newton offices by dialing 973-455-1567 today.