Morristown Multi-Vehicle Accidents Attorney
Serving Accident victims across New Jersey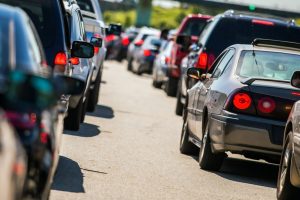 As many are already aware, New Jersey is the most densely populated state in the U.S. Congested conditions on the NJ Turnpike, Garden State Parkway, I-287, and many of our highways and back roads lead to situations where simple motor vehicle accidents can turn into multi-vehicle pile-ups. Not only can these accidents lead to an even greater risk of serious injury, but they can also complicate potential insurance or personal injury claims. Despite these potential complications, it is still quite possible to recover full and fair financial compensation for multi-vehicle accidents even if you or your driver were partially to blame for the accident.
At The Law Offices of Michael P. Burakoff, we have extensive experience serving motor vehicle accident victims across Morris and Sussex County towns including Denville, Newton, Morristown, Andover, Florham Park, Morris Plains, Mt. Olive, Roxbury, and across Northern New Jersey. Our firm works with victims and their families to deliver highly personalized legal solutions. We believe that personal injury settlements are verdicts offer not only a financial benefit, but also the ability to help our clients get their life back on track after a traumatic injury.
For a free and confidential consultation regarding a car accident, motorcycle accident, truck accident, or any other type of multi-vehicle motor vehicle accident, please call our Morristown multi-vehicle accident attorneys today.
Denville Motor Vehicle Accident Attorney Identifies Common Causes of Multi-Vehicle Accidents
Our Denville motor vehicle accident attorney understands that no two motor vehicle accidents involving multiple vehicles are exactly the same. Many involve one at fault driver, many involve multiple at-fault parties, and some are even due to hazardous driving conditions. Here are some common causes of multi-vehicle auto accidents in New Jersey:
Failure of drivers to give adequate room in front of their vehicle. So-called "wolf packs" are involved in a high number of multi-vehicle highway auto accidents
Speeding
Driving while intoxicated
Aggressive driving
Driving while distracted
Disobeying posted traffic laws
Dangerous road conditions such as icy roads, incomplete roads, lack of signage, etc.
East Hanover Multi-Vehicle Accident Lawyer Defines Comparative Negligence
New Jersey personal injury statutes are governed by "comparative negligence" regulations. What this means is that fault or liability for an injurious accident may be shared by more than one party. Additionally, it may be possible for individuals or entities who are partially at fault for an accident to still recover financial compensation. Let us look at an example to illustrate this concept.
Steve is traveling along I-280 eastbound in his family car. Irene is in front of Steve in a pick-up truck. James is in front of Irene in a commercial vehicle. These three are traveling at safe speeds, but the vehicles are not giving one another adequate space (they are tailgating). James, in the lead vehicle, receives a text message and looks at his phone. During this time, he loses control of the vehicle and all three vehicles are involved in a collision.
It may seem obvious that James would be found at fault for this multi-vehicle accident. However, it could be argued that both Irene and Steve were partially responsible by irresponsibly tailgating, not to mention further complications such as whether or not they were wearing a seatbelt, driving with a license, etc. In this situation, let's suppose James was assigned 80 percent of the fault while Irene and Steve were assigned 10 percent each. Both Irene and Steve would be eligible to recover financial compensation through a personal injury claim from James' insurance, but not from one another.
Newton Partial Fault Car Accident Attorney Recovers Compensation for Clients
Multi-vehicle auto accidents have the potential to be quite complicated from a personal injury standpoint. As discussed above, many involve concepts such as comparative negligence and even more involve suing multiple at-fault parties. However, there are a few constants which will remain true no matter what the details of your case. In order to recover financial compensation, your Newton partial fault car accident attorney will need to prove the following:
You were involved in an accident
As a result of that accident, you sustained serious injuries
Your injurious accident was the direct result of the negligent or reckless actions of another party or a defective vehicle
Your injuries led to damages which are eligible for compensation
A qualified and experienced attorney may be able to recover compensation for damages including medical bills, lost wages, pain and suffering, emotional anguish, incidental expenses, rehabilitation, in-home care, loss of life's pleasures, and much more.
Contact a Multi-Vehicle Auto Accident Injury Attorney with Offices in Morris and Sussex County Today
Multi-vehicle auto accident injury attorney Michael P. Burakoff has been recovering compensation for auto accident victims since 1976. Our firm has won millions for our clients injured in motor vehicle accidents, construction accidents, slip and falls, and many other types of injurious accidents. Attorney Burakoff believes in keeping our clients and their families informed and involved throughout the legal process in local Sussex County and Morris County communities such as Newton, East Hanover, Denville, Dover, Morristown, Netcong, Hopatcong, and all of Northern New Jersey.
Please contact us online or through our Morristown or Newton offices by calling 973-455-1567 today for a free and confidential consultation with a member of our qualified and experienced legal team regarding your multi-vehicle auto accident and your potential for a personal injury claim.