Morristown Motorcycle Accident Attorney
Serving Clients Across New Jersey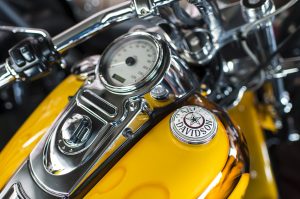 All kinds of motor vehicle accidents can potentially lead to serious injury or even wrongful death for drivers and passengers in New Jersey. For motorcyclists, this danger is even greater as they are not afforded the same physical protection as car and truck drivers. While bikers understand the risks involved, the vast majority of motorcycle accidents are caused by the negligent or reckless actions of other drivers. If you or a loved one has been injured in a motorcycle accident, you may be eligible for financial compensation through a  personal injury claim.
At The Law Offices of Michael P. Burakoff, our firm knows that injurious motorcycle accidents are often life changing events for our clients and their families. That is why we take pride in keeping clients' families informed and involved throughout the legal process as we have done for over 40 years in local New Jersey communities including Newton, Morristown, Netcong, Hopatcong, Dover, Roxbury, and both Morris County and Sussex County.
To discuss your family's needs and concerns in the aftermath of a motorcycle accident, call our Morristown motorcycle accident attorneys today for a free and confidential consultation with a member of our qualified legal staff.
Netcong Motorcycle Accident Attorney: Motorcycle Injury Claims vs. Car Accident Claims
When it comes to personal injury claims in New Jersey, our Newtown attorney understands that there are differences between car and motorcycle insurance which can directly impact our clients. Some of these key contrasts include:
State law. Regulations pertaining to motorcycle and car accidents are different in New Jersey. For example, bikers are legally required to wear a helmet and there are grey areas for topics including "lane splitting".
Severity of injuries. Motorcyclists are at an increased risk of serious injury when involved in an accident. Catastrophic injuries including spinal cord injuries, brain injuries, paralysis, loss of limb, and wrongful death are far more common for bikers than they are occupants of other motor vehicles.
Insurance coverage. New Jersey car insurance policies must legally provide PIP (personal injury protection) and uninsured/underinsured motorist coverages. The same cannot be said for motorcycle insurance, making a personal injury recovery all the more important when it comes to injuries resulting from motorcycle accidents.
Dover Motorcycle Injury Lawyer and Motorcycle Insurance in NJ
As mentioned above, motorcycle insurance and car insurance are similar in New Jersey, but the differences can have a massive impact on what you and your family are able to recover after an accident. The primary difference is coverages for Personal Injury Protection or PIP. Where PIP coverage is legally required for car owners and operators, it is not available to motorcyclists. The only situation in which PIP coverage may apply in a motorcycle accident would be the event that a pedestrian was injured by a motorcycle.
This is extremely significant for bikers injured in an accident. PIP coverage is what is used to pay damages for medical expenses and lost wages. New Jersey is a "no-fault" state when it comes to motor vehicle insurance, meaning that no matter who was at fault for an accident, each party works with their own insurance company to cover damages. To summarize, motorcyclists are not able to recover damages through their own insurance policy for their injuries.
This is where our Dover motorcycle injury law firm steps in. If your accident was caused by the negligent or reckless action or another party, we may be able to recover financial compensation for the damages you and your family have sustained through a personal injury claim. For bikers injured in New Jersey, this may be the only option to pay for medical expenses and lost wages.
Parsippany Motorcycle Accident Injury Lawyer Examines Motorcycle Accident Statistics
The National Highway Traffic Safety Administration (NHTSA) reported approximately 88,000 injurious motorcycle accidents in 2015. Here are some other sobering statistics when it comes to motorcycle accidents in the United States:
Motorcycles account for less than one (1) percent of all motor vehicles on the road
Despite this, motorcyclists were the victims in 14 percent of all motor vehicle fatalities
Motorcyclists are approximately 29 times more likely to be killed in an accident when compared to drivers and passengers of other motor vehicles
1,772 lives were saved by motorcyclists wearing protective helmets in 2015, with an estimated 740 more which could have been saved if the individuals had been wearing helmets
Motorcycle accidents are over ten (10) times more likely to involve a frontal collision, with only seven (7) percent of all motorcycle accidents involving an impact on the rear of the motorcycle
Contact a Motorcycle Accident Injury Attorney with Offices in Sussex and Morris County Today
Personal injury attorney Michael P. Burakoff has been protecting the legal rights of clients injured in motorcycle accidents since 1976. In those four plus decades of legal service, Attorney Burakoff has put his focus on recovering full and fair compensation through personal injury claims for victims and their families across New Jersey towns including Chatham, Morristown, Newton, East Hanover, Rockaway, Denville, Parsippany, New Vernon, Sussex County, and the greater Morris County region. Our firm believes in working closely with the families of our clients in an effort to provide the best possible support in such a traumatic and stressful time.
If you or a loved one has been injured in a motorcycle accident or other motor vehicle accident, contact us online or through our Morristown office or our Newton office by calling 973-455-1567 today for a free and confidential consultation.