Morristown Grocery Store Accident Injury Attorney
Experienced Personal Injury Lawyer Serving Clients in New Jersey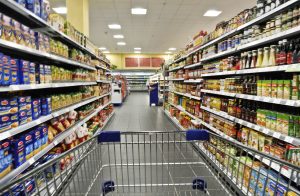 Grocery stores are not inherently dangerous. While that may seem like an obvious observation, the actions of managers, proprietors, and employees can turn a family shopping trip into a hazardous environment quickly. Slip and fall accidents, accidents from falling objects and even pedestrian accidents in parking lots may be the fault of grocery store owners when they are the result of negligent or reckless action or inaction.
If you or a loved one has been injured during a shopping trip at a grocery store, shopping mall, or another retail store, you may be entitled to financial compensation through some type of personal injury claim.
The personal injury legal team of The Law Offices of Michael P. Burakoff has secured full and fair compensation for clients for over 40 years in Sussex County and Morris County, including towns like Parsippany, Newton, Netcong, East Hanover, Mt. Olive, Rockaway, Chatham, and Morristown. We believe that sustaining a serious injury can be a life-altering event that can have long term effects on both victims and their families. For that and many other reasons, we take pride in offering individualized legal service which includes addressing the needs and concerns of the whole family.
To discuss your recent injurious accident at a grocery store or other retail store and to find out more about your potential to recover damages through a personal injury claim, call our Morristown grocery store accident injury attorney for a no obligation, free and confidential consultation today.
Premises Liability Lawyer Discusses Hazardous Conditions in Morris County Grocery Stores
While many of us might immediately think of the classic wet floor sign on a linoleum floor, there are a multitude of hazardous conditions which can lead to injurious accidents in Morris County grocery stores. Some dangerous situations include:
Dangerous flooring – there is a reason this is the most commonly thought of type of grocery store accident. Wet, uneven, loose, or otherwise dangerous flooring is the culprit in a high number of slip and fall accidents suffered in grocery stores
Falling merchandise – many grocery stores have high shelves from which items may fall and cause injury. This is especially dangerous when employees are stocking or rearranging items
Dangerous Parking Lot or Parking Structures – premises liability may extend to the parking area as well. Hazardous conditions due to improper signage, lack of proper lighting, and more could lead to injury
Negligent Security – the lack of adequate security or the overreaction of existing security can also cause injuries to shoppers in Morris County
Netcong Grocery Store Accident Attorney Finds Fault
The mere existence of a hazardous condition does not necessarily prove that the grocery store proprietor and/or manager is liable for your accident. Premises liability statutes are such that our Netcong personal injury attorneys will need to prove the following:
A dangerous condition existed. Whether it was a wet floor or a lack of security in a dimly lit parking garage, the first step towards finding fault is proving the extent of the hazardous condition
The hazardous condition directly led to your accident and your injuries
The hazard was known or should have reasonably known by owners, managers, or employees of the grocery store. For example, if a customer spills a gallon of milk and you slipped on the milk 10 seconds later, that may not be a strong personal injury claim as there was no reasonable way for any representative of the store to respond in time
Once the dangerous situation was known or should have been known, there were no adequate measures taken to make the premises safe
Newton Slip and Fall Attorney Recovers Compensation for Grocery Store Accidents
Assuming our Newton legal team is able to prove the four items above, you and your family have a great chance of recovering full and fair financial compensation for your injuries. As with many personal injury claims, the at fault party will likely refute your claims and may even offer an insultingly low lump sum settlement. There are three simple steps you can take in the immediate aftermath of an accident to avoid missing out on recovering the compensation to which you are entitled.
First, seek medical attention as soon as possible. This will not only provide a legal medical diagnosis of your injuries, but it is also a vital step towards your physical recovery. Second, do not sign anything. Any paperwork offered to you by the grocery store or by their insurance company may be a ploy to get you to sign away vital legal rights. Third, contact a qualified personal injury attorney. Our Newton attorney can handle the legal aspects of your claim while you and your family focus on getting your lives back on track.
Contact a Grocery Store Accident Lawyer with Offices in Morris County and Sussex County Today
At The Law Offices of Michael P. Burakoff, our personal injury legal team has been protecting the legal rights of clients injured in grocery stores since 1976. Our established and experienced firm has both the resources and the knowledge of New Jersey law to recover financial compensation for our clients as we have done throughout Sussex County and Morris County in towns such as Morristown, Newton, Parsippany, Hopatcong, Dover, Roxbury, and Morris Plains.
For a free and confidential consultation with attorney Michael Burakoff regarding your grocery store accident leading to injury, please contact us online or over the phone through either our Newton office or our Morristown office by dialing 973-455-1567 today.