Morristown Crane Accident Injury Attorney
Serving Clients across New Jersey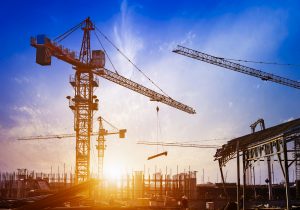 According to the U.S. Occupational Safety & Health Administration, there are about 125,000 cranes currently in use in America. These cranes are operated by approximately 250,000 crane operators. Cranes are complex, heavy pieces of machinery which require skill and experience to safely operate, assemble, and transport. Unfortunately, these high numbers and degree of risk can sometimes lead to serious injuries or even wrongful death. Depending on the situation, victims of crane accidents may be entitled to recover compensation through personal injury claims, workers' compensation claims, or both.
At The Law Offices of Michael P. Burakoff, our construction accident injury legal team has extensive experience serving local Sussex and Morris County communities including Newton, Morristown, Denville, Parsippany, Florham Park, Chatham, Roxbury, and across Northern New Jersey.  We have been successfully recovering full and fair compensation for crane accident victims and their families for over 40 years. Unlike many firms who cast a wide net, Attorney Burakoff has dedicated his career to personal injury law, allowing him to focus on the legal and personal matters which matter most to his clients.
To discuss your crane accident injuries and your potential for compensation through a personal injury or workers' compensation claim, please call our Morristown crane accident injury attorney today for a free and financial consultation.
Rockaway Crane Accident Personal Injury Lawyer Identifies Common Crane Accident Causes
Cranes commonly weigh in excess of 20 tons, can reach over 300 feet tall, and are assembled on site or may be mobile. With this sheer size and scope, even the smallest error can lead to a catastrophic accident. Our Rockaway crane accident personal injury lawyer has seen all of the following crane accident causes result in serious injury:
Cranes coming into contact with power lines
Individuals being struck by falling load or other materials from a crane overhead
Structural collapse of a crane
Operator error
Inadequate crane maintenance
Transportation accidents involving cranes becoming dislodged, falling over, etc.
Victims injured by falling counterweights
"Caught between" injuries
Mechanical failure
Falls from heights
Should I File Personal Injury or Workers' Compensation After a Crane Accident?
Crane and other forms of construction accidents are most frequently encountered on the job. In these instances, employees should be covered by workers' compensation insurance as provided by their employer. However, there are also situations where injured parties may be entitled to financial compensation for a crane accident regardless of whether or not they were working at the time. Here are three high-level scenarios to consider:
The victim was an employee and there was no negligent third party. In this situation, crane accident victims should be eligible for workers' compensation regardless of who was at fault for the injurious accident. It is not possible to file a personal injury claim against one's own employer in the vast majority of situations.
The victim was not an employee at the time of the crane accident. If the victim was not employed at the time, he or she may be eligible for compensation through a personal injury claim.
The victim was an employee, and there was a negligent third party. There is also a scenario where a victim may have been employed at the time of his or her accident, but the at-fault party was not their employer. This can occur on construction sites where there are frequently multiple businesses, organizations, and contractors working simultaneously.
Denville Crane Accident Injury Attorney Finds Fault
Our Denville crane accident injury attorney understands that the foundation of any solid personal injury claim is proving liability. In New Jersey, liability entails another party acting with negligence or recklessness, leading to an injurious accident. Crane accidents may be the result of any number of greatly differing causes, and therefore finding fault can be quite different from case to case as well.
Operator error, lack of crane operator training, and failure to properly maintain a crane are all common causes of crane accidents. In these situations, the company or entity responsible for the operation of the crane may be found to be liable due to negligent actions.
Crane accidents may also be caused by defective parts or improper assembly. These personal injury claims may be filed as defective product liability cases, which in fact require no proof of negligence or recklessness to win your case as per strict liability regulations.
Whatever your unique situation, our Denville crane accident injury attorney will strive to recover full and fair compensation for damages incurred including lost wages, medical bills, pain and suffering, emotional distress, and much more.
Contact a Crane Personal Injury Attorney with Offices in Sussex and Morris County Today
Crane accident personal injury attorney Michael P. Burakoff has been practicing personal injury law since 1976 in local Morris County and Sussex County across towns such as Morristown, Florham Park, Parsippany, Dover, Hopatcong, Newton, Andover, and all of Northern New Jersey. In over four decades of legal service, Attorney Burakoff has recovered multiple million dollar settlements and verdicts for his clients through personal injury claims. Our firm believes in keeping our clients and their families involved and informed throughout the legal process, which allows us to deliver legal solutions which address your individual needs and concerns.
For a free and confidential consultation with Michael P. Burakoff concerning your crane accident or other construction accident, please contact us online or call our Morristown of Newton offices at 973-455-1567 today.