Morristown Bar & Restaurant Accident Attorney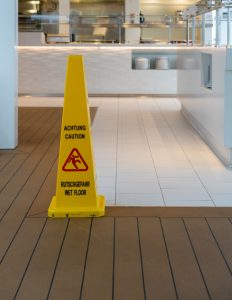 The main function of a restaurant or bar is to provide services to its patrons or customers and assist them in their quest for relaxation and enjoyment. We have all gone out after work or on the weekend to a bar or restaurant with the intention of being social and meeting with friends, having a drink, unwinding, or grabbing a bite to eat.  Your intention to relax and enjoy the company of others should not be interrupted by tragedy resulting from a property owner's lack of reasonable care in ensuring the safety of its guests. In New Jersey, if the owners failed in their legal duty of care in the safety of their guests, and injuries or death result due to the lack of care, you may be entitled to financial recovery. There may be financial recovery due as a result of the following types of accidents caused by a lack of duty of care:
Slip and Fall Accidents in a Bar or Restaurant
Slip and fall accidents happen at restaurants as a result of faulty procedures in making sure that a bar or restaurant is clean or well-kept. If you have ever been in a restaurant then, you have, without a doubt, seen customers and wait staff spill things, break glassware or drop food that can become slippery or dangerous if not quickly cleaned up.   Restaurants and bars have a duty to its patrons to keep them safe and this means that spills should be cleaned up quickly and properly and nothing should be left unattended that could cause physical injury to another.   If the floor is wet or obstructed, a sign should be displayed advising the patrons of the danger. More importantly, the restaurant should have procedures in place and be diligent about spotting and cleaning up potential hazards and they should not wait for someone to fall before becoming concerned.  While slip and falls can be common, restaurants and bars should also be concerned about over-serving patrons or serving already-intoxicated guests.
To discuss your recent bar or restaurant accident, your injuries, and your legal standing regarding a personal injury claim, call our Morristown bar & restaurant accident attorney today for a free and confidential consultation with a member of our experienced legal team.
Injuries Resulting From Over-serving Patrons Morris County NJ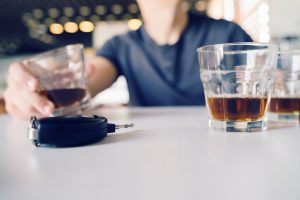 People may also be injured as a result of the over-serving alcohol, serving an intoxicated person more alcohol, serving a minor, or other negligent behavior.   New Jersey has enacted laws known as "Dram Shop Laws" that allow an injured person to sue the establishment for negligent serving of alcohol. Drunk-driving accidents
Overconsumption of alcohol often creates a risk of injury to others.  The risks can be alleviated by not serving drunken patrons, or over-serving patrons until they become drunk. The bar has an interest in making money and keeping patrons happy, but they cannot put their business interests ahead of their guests and, to do so, would make them legally responsible.
Over-serving Leads to Decrease in Judgment
For example, over a serving patron often causes a change in the patron's behavior and the person may use less judgment, and become more aggressive thereby posing a bigger risk to others. If you are old enough to drink, you may have already witnessed bar fights in which you or someone else was injured as a result of people being served too much alcohol.  Bar fights are not the only danger or injuries caused by over-serving alcohol.
Drunk Driving Accidents Leaving a Bar or Restaurant
For instance, people who are intoxicated often leave the bar and the bar owners or servers may not know if the person intends on driving.  Drunk-driving accidents are also covered under this area of the law as a bar owner has the legal obligation to not over-serve its patrons.   A patron may leave the bar or restaurant and get into his or her car while intoxicated as both he and the property owner may be liable for any injuries caused due to their negligence.   If the bar over-served the patron and he gets into an automobile accident and the alcohol contributed to the accident, the injured person or family member may be entitled to recovery from the establishment. Sometimes the injured party is not someone else and is the person who was over-served and he or she may be able to sue for any financial recovery in certain circumstances.
Alcohol Poisoning Injury Lawyers Sussex County NJ
Alcohol poisoning is an example of an injury caused to oneself by the negligent over service by a bar or restaurant.  Younger people tend to be more susceptible to alcohol poisoning because they often go out with the intention of getting drunk.  This sometimes leads to serious consequences for the person that is drinking too much and the establishment bears some responsibility in continuing to serve the person to the point of illness. This illness, as well as the injuries noted above, may cause debt to accrue that you cannot pay.
You may incur financial debt as a result of medical bills, injuries, or inability to work due to the injuries sustained as a result of the negligent bar or restaurant owner and the only way to recover from that debt may be to sue the responsible establishment.
Injured in a Bar or Restaurant? Contact our Morristown or Newton Offices Today
No one goes out for dinner or an evening with friends and expects to be injured due to the negligence of a bar or restaurant owner. While these accidents do happen, all too often they are avoidable and can be attributed to the negligent or reckless actions of a responsible party.
Personal injury attorney Michael Burakoff has been serving injured clients since 1976. Lean on the extensive experience he has cultivated through 40 plus years of securing full and fair compensation for injured victims in Sussex and Morris County towns including Newton, Morristown, Netcong, Dover, East Hanover, Morris Plains, Andover, and Denville. Our legal team is dedicated to providing dynamic and personalized legal service, which we believe sets us apart from the average personal injury firm.
If you or a loved one have been injured as a result of the negligent acts of a bar or restaurant you should seek legal help. We will review your case and help get you the recovery that you deserve. Contact us online or through our Morristown office or our Newton office by calling 973-455-1567 today for a free and confidential consultation with a member of our qualified legal team.