Morristown Vehicle Defect Injury Attorney
Serving Clients Injured in Auto Accidents Due to Vehicle Defects in New Jersey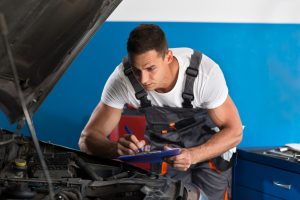 People sustain injuries when they are in a car accident. Sometimes an accident is your fault, sometimes it is another driver's fault.  However, a driver is not at fault when he or she is injured as a result of a vehicle defect.
A vehicle defect is not something that concerns the cosmetic nature of a car.  A defect goes more to the safety of the vehicle like operation, acceleration, steering, seat belts, etc.
Morristown vehicle defect injury attorney Michael P. Burakoff  has helped clients injured by poorly designed, or poorly manufactured vehicles to recover full and fair injury compensation through product liability claims in towns across Morris County and Sussex County, including East Hanover, Parsippany, Rockaway, Denville, Netcong, Mt. Olive, Hopatcong, Newton, and more. Call us to get in touch with one of our attorneys at 973-455-1567.
According to the National Highway Traffic Safety Administration (NHTSA), there are recalls that are both safety-related and those that are not safety related.
Safety-related defects
Some examples of defects considered safety-related are: steering components, problems with fuel system components, accelerator controls that may break or stick, wheels that crack or break, engine cooling fan blades, windshield wipers, seats and/or seat backs that fail, critical vehicle components that break, wiring system problems, car ramps or jacks that may collapse, airbags, child safety seats.
Non-safety related defects
Defects that are not safety related or may not be considered safety related are air conditioners. Poorly working radios, ordinary wear and tear of equipment, nonstructural or body panel rust, cosmetic issues, or excessive oil consumption.
Defects as contributing factors in accidents
Many vehicles contain defects that contribute to the injury or death of a person.  The defects are not always known and may be discovered later.  Sometimes, it takes many accidents or deaths to occur for the manufacturer to discover the defects.  The National Highway Safety Administration collects data on safety issues and potential recalls and encourages the public to report any potential issues.
A car manufacturer may be held responsible for damage if it can be confirmed that the injury was a result of the defect.  The manufacturer would be responsible for paying damages and correcting the problematic defects. Our attorneys can review your case, look at the police reports, the damage, medical records, and the safety recall to assist in determining if there is any potential responsibility on the part of the manufacturer.
Common Vehicle Defects Across New Jersey
There are various defects that can occur and some common defects include:
Airbags: Many recalls include airbags that fail to deploy and fail to protect you in the crash.
Acceleration or deceleration.
Dangerous design. Some cars may be designed in a way that is dangerous. The dangerous design causes the car to cause injury.
Professionals, both legal and engineering, may be needed to determine the nature of the defect and the legal liability of the parties involved.
How is Liability determined if someone is injured in an accident and it is believed to be related to a vehicle defect?
If a defect had been found or believed to exist, the next step is to determine liability.  Did the manufacturer know of the defect? Should the manufacture have known? Are there other people that have been hurt by a similar defect?
In a lawsuit, our attorneys will sue the parties responsible for the accident. Several parties may be sued such as the vehicle manufacturer, the dealership, the company that manufactured the parts or installed the parts, the dealership that sold the vehicle, or the manufacturer of the parts of the vehicle.
Known vs Unknown Issues With the Vehicle
One of the first things we will review is whether or not there was or is a product recall.  If the manufacturer knew of the defect, it may have sent a recall to assist in the repair of the item.  Did you receive a notice of the recall and have the item repaired? Perhaps the dealership refused to repair the car.  The above factors play an important role in determining fault.
In some cases, there is a defect in the car that was unknown at the time of purchase.  If you used the car as intended and the defect in the car was the cause of the injuries, you may sue under product liability.
Contact an Accident Lawyer Today to Review Your Case Involving Vehicle Defects
If you were injured or need advice on an injury on a case involving vehicle defects, contact our office for a thorough examination of your legal rights including your potential for recovery.
At The Law Offices of Michael P. Burakoff , our legal team has more than 40 years of experience helping clients to recover the compensation they need and deserve for car accident injuries in towns across New Jersey, Morris County, and Sussex County, including Parsippany, Newton, Dover, Netcong, Hopatcong, East Hanover, Denville, Mt. Olive, Morristown, and more.
Attorneys at the law offices of Michael P. Burakoff, P.A have extensive experience handling product liability claims and know what it takes to investigate and identify negligence. If you or a loved one has suffered as a result of vehicle defects, talk to one of our attorneys charge-free, please contact us by telephone at 973-455-1567, or complete the contact form in our website and one of our attorneys will get in contact you.