Motor Vehicle Accident Causes Morris and Sussex County NJ
Serving Denville, Parsippany, Netcong, Hopatcong and across New Jersey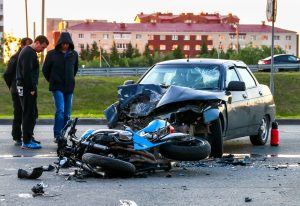 It is important to remember that operating any motor vehicle is an enormous responsibility and that driving can be an extremely dangerous activity. There are many reasons why motor vehicle accidents may happen, however, the primary cause of most accidents is driver negligence. Any car accident can be tragic and may result in significant injuries and property damage as well as death in some cases. When negligent or reckless drivers cause car accidents, the results are often serious injuries to other drivers and passengers, and the reckless driver themselves.
The Law Offices of Michael P. Burakoff has taken pride in serving our local Sussex and Morris County communities and communities across Northern New Jersey for over three decades. The family-first approach we bring to personal injury law has earned us the respect of our clients and the community. Please call our Newton office or our Morristown office today for a free and confidential consultation regarding your motor vehicle accident.
Serious Car Accidents Caused by Morristown Drivers
There are several factors or circumstances that are often the catalyst to the events leading up to a serious accident or injury in the roadway. Below are some of the most common perpetrators in terms of causes of a serious accident, resulting in major injuries to one or both parties:
Drivers being negligent: Being careless or reckless driver highly raises the chance of a car accident. Given the speed and weight of most motor vehicles, the result is often serious injuries to yourself, other drivers and passengers.
Drivers being distracted: As stated previously, driving can be a very dangerous activity; one that requires your undivided attention. A distracted driver is far more likely to fail to recognize and react to dangerous situations.
Drivers being tired or fatigued: Drowsy or tired drivers, much like distracted drivers, are less likely to react quickly to changing and dangerous situations.
Drunk Driving: The dangerous and effects of drinking and driving are well documented. Judgment, vision and reaction times are all greatly affected by alcohol consumption.
Operating a vehicle at greater than the allowed speed limit (speeding): Speed limits are set to allow us the greatest amount of safety on any given road. Going above the allowed speed limit automatically increases the level of threat and danger. Moreover, collisions at higher speeds can cause the greatest amount of damage and fatalities.
Road Hazards: Things such as debris in the road can cause drivers to swerve and lose control of their vehicle. Dangerous road conditions are a real and ever-present threat.
Animals or other obstacles in the road: Animals, such as a deer, dogs, cats, and others are a constant hazard as they may dart across the road forcing a driver to suddenly swerve and collide with another vehicle or lose control of their vehicle and strike another object.
Adverse weather conditions: Snow, ice or rain on the road makes it much more likely that a driver will lose control of their vehicle. In the case of snow or rain, vision problems for drivers can be created.
Failure to follow traffic laws: New Jersey traffic laws have been put into place for the safety of both drivers and pedestrians. Not following the rules of the road makes drivers much more dangerous not just for you but for other drivers and pedestrians as well.
Defective auto parts: Defective auto parts are an unseen but very real threat as they can be the cause of serious accidents. Malfunctioning brakes, brake lights, and bald tires have been cited as the cause of many serious motor vehicle accidents.
Newton Injury Lawyers Provide Tips for Safety on the Roads
When driving, safety should always be your top concern. Nationwide Insurance Company has provided drivers with some common sense safety tips for driving:
Focus on driving
Don't multi-task when driving. Keep 100% of your attention on driving at all times.
Don't use any electronic device while driving.
Don't eat while you are driving.
Don't attempt to retrieve items that fall to the floor.
Keep items needed within easy reaches, such as toll fees, toll cards, and garage passes.
Avoid driving when you're tired.
Drive "defensively"
Slow down because speeding gives you less time to react and increases the severity of an accident.
Expect the unexpected; be aware of what other drivers around you are doing and assume that they may do something crazy.
Maintain at least a 2-second cushion between you and the car in front of you; 4 seconds in bad weather.
Practice safety
DO NOT DRINK AND DRIVE!
Secure cargo that may possibly move around while the vehicle is in motion.
Keep small children in a proper child safety seat.
Don't let small children move around the vehicle while you are driving.
Maintain your vehicle in a safe condition
Make sure all brakes are in good working condition.
Make sure all turn signals and brake lights are working properly.
Adjust your seat, mirrors and climate controls before putting the car in gear.
Contact a Dover Motor Vehicle Accident Attorney Today
Since 1976, attorney Michael P. Burakoff has been recovering compensation for auto accident victims in communities across New Jersey including Denville, Parsippany, Netcong, Hopatcong, Dover, and Rockaway. If you or someone you know has been involved in a motor vehicle accident, please contact us online or through our Morristown or Newton offices by calling (973) 520-0525 today for a free and confidential consultation.