Class-Action Lawsuit Claims Samsung Refrigerators Are Defective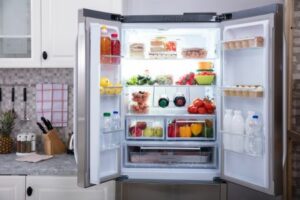 Defective products don't always cause immediate physical harm. However, they can cause inconvenience as well as medical issues.
For example, a refrigerator that fails to stay cool can affect food. If you then eat that food, you could get seriously ill.
Customers of Samsung refrigerators are claiming that their refrigerators are defective, failing to stay cool. Many have filed a class-action lawsuit in New Jersey. The lawsuit is claiming that the fridges fail to keep food at a safe temperature. Samsung, however, is denying these claims and will not fix the refrigerators under warranty.
The lawsuit includes refrigerators with a twin-door or French doors design with a freezer drawer at the bottom. The refrigerators range in price from $1,000 to $3,000. They come with a one-year manufacturer's warranty. The affected models include:
RF26HFENDSR
RF26J7500SR
RF27T5201SG
RF28HMEDBSR/AA
RFG298HDRS/XAA
RF28HDEDBSR/AA
The complaints about the refrigerators started in 2019, although one woman bought her defective refrigerator back in 2013. She used it for just one year. It is now sitting in her garage, unused. She paid $2,700 for it and it is now worthless.
The first problem was the ice maker. It was clogging up and freezing all the time. The refrigerator would then have trouble staying cold. The temperature would show 34 degrees, while the actual temperature would be 65 degrees—much too hot. In fact, a refrigerator that runs that hot is a safety issue. It's important for a refrigerator to stay at or below 40 degrees. Otherwise, bacteria can multiply rapidly and food and medicine can go bad.
Consumers are asking Samsung to recall the refrigerators, but the company isn't budging. Nobody is stepping in despite many complaints from consumers who have suffered from spoiled food due to the defective appliances. In one case, a 9-year-old child suffered food poisoning due to a fridge's unsafe temperatures.
Consumers can help their case by recording every conversation with Samsung, filing a complaint with the Better Business Bureau in New Jersey, and fighting for a refund.
This is not the first class-action lawsuit for Samsung. The company is facing one from 2017, in which the refrigerator's ice makers were deemed defective. According to the lawsuit, the ice makers have caused water leakage, fan noise, and "over-freezing in the ice compartment. The lawsuit also alleges that Samsung has taken no action to repair or replace the defective ice makers, despite knowing about the issue for years. The lawsuit is still pending and is now in mediation. 
Contact a New Jersey Personal Injury Lawyer Today
Consumers expect that at the very least, their refrigerators will stay cold. Not only are certain foods better when they are cold, but some have to be refrigerated or else they can grow bacteria and cause serious illnesses.
Having issues with a refrigerator or other household appliance? A Morristown product liability attorney from The Law Offices of Michael P. Burakoff can help you find a resolution that fits your needs. Call (973) 455-1567 or fill out the online form to schedule a free consultation.
Source:
wrtv.com/news/wrtv-investigates/new-class-action-lawsuit-filed-against-samsung-regarding-defective-fridges